The "Lesson builder"
You are a creative teacher? Want to infuse technology in your history lessons?
Here is a smart tool for you. The "Lesson builder" of the VH 2.0 makes it possible to adapt all VH cases to meet your curricular objectives or classroom needs. How? Very easy. You can:



Create your own folder of "My Lessons"




Change or adapt every VH mission activity




Design custom-made evaluation rubrics




Upload personal content such as texts, worksheets, audio and video files.
The "Lesson builder" follows a simple and creative backward design model of lesson planning with step-by-step modules and sections to fill-in. The organisational stucture of the Lesson builder is as follow*: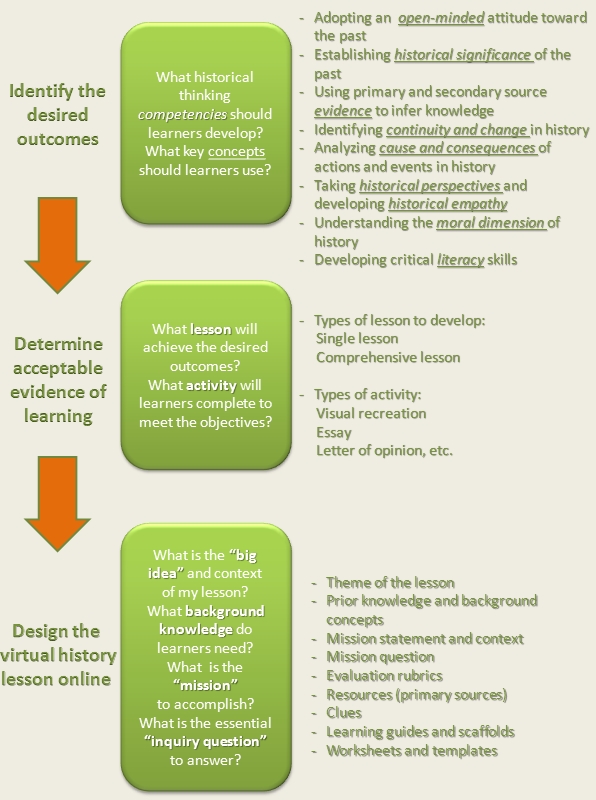 With this new functionality, your online lessons will match perfectly your own course planning and specific needs. Students will work on activities directly in line with your course expectations and evaluations. All your personalized lessons are located in a password-protected "My Lessons" folder that you can easily access and modify. For copyright and ownership protection, your lessons are private and not made public to other users, except your own students.
That being said, you have the opportunity to share and exchange lessons with colleagues, and build your own "Shared lessons" repository. To protect copyright and ownership, shared lessons can only be viewed as clients and cannot be modified.
Isn't the goal of technology to facilitate communication and exchanges? This is what the VH 2.0 is all about…
*Adaptation de Wiggins, G., and McTighe, J. (2005). Understanding by Design, 2nd Edition. Association for Supervision and Curriculum Development.